EVIS EXERA (BF-XP160F)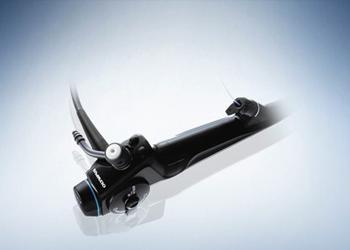 Bronchoscope
Video Bronchoscope
EVIS EXERA (BF-XP160F)
The EVIS EXERA BF-XP160F is a light, ergonomically designed bronchofibervideoscope. This innovative hybrid combines the best of video and fiber-optic technologies. With a CCD built into the control section, the BF-XP160F delivers images that are sharper, clearer, and larger than possible with a fiberscope while its ultrathin 2.8 mm insertion tube makes it ideal for bronchoscopy in very narrow lumina.
---
Key Benefits
Bright video images with less weight: With the versatility of a slim, lightweight fiberscope and the superior image quality of video technology, the BF-XP160F enables deep penetration into the lung without compromising image quality or size.
Ultrathin insertion tube: The slender 2.8 mm insertion tube enables access to the peripheral bronchi, yet still has a 1.2 mm diameter instrument channel for BAL, cytology brushings, or biopsies with a dedicated small diameter forceps.
Improved handling performance: While the ultrathin insertion tube alone significantly improves insertion characteristics, the BF-XP160F features other refinements such as a smaller bending radius and greater resistance to warping when compared to other fiberscopes.
---
Product Support
Outer Diameter Insertion Tube:
Olympus Service & Repair
Olympus offers a broad range of services to healthcare professionals and to our customers, including contact hour and peer-based training courses; information, training tools and videos on infection control and reprocessing; authorized repair services and support on Olympus equipment; and financing solutions to help your facility with acquisition of new capital equipment, accessories, and maintenance plans.
Need Help?
Cleaning, Disinfection & Sterilization
The proper cleaning, disinfection, and sterilization of Olympus equipment is equally as important as their proper use. 
Olympus Training & Proper Use
Olympus offers a variety of educational opportunities for medical and surgical healthcare professionals. 
Peer-To-Peer Training
Our Professional Education Program provides multiple types of peer-to-peer training in order to meet the specific educational needs of physicians and nurses focused on the safe and effective use of Olympus products.
Olympus University
Olympus Professional Education also offers training programs through Olympus University (OU). Geared toward nurses, reprocessing technicians and biomeds, many of the OU courses are available for nursing contact hour continuing education credit.
Visit Olympus University