EVIS EXERA II (BF-Q180-AC)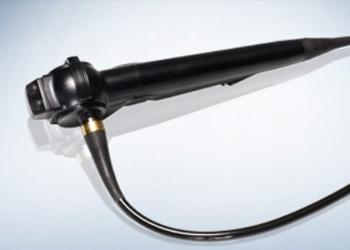 Bronchoscope
Video Bronchoscope
EVIS EXERA II (BF-Q180-AC)
The EVIS EXERA II BF-Q180-AC is the world's first autoclavable, flexible bronchovideoscope. Along with its exceptional hygiene and safety profile, it delivers expanded image size and outstanding image performance. Images are clear and sharp throughout the viewing area, enabling confident bronchoscopy for all procedures in the bronchial tree. With a standard 2.0 mm working channel, it is compatible with a range of endoscopic, laser, and electrocautery devices.
---
Key Benefits
Exceptional hygiene profile: Because the BF-Q180-AC can be autoclaved, it delivers the unique safety benefits of steam sterilization along with patient-ready accessibility, allowing you to have a backup instrument in the endoscopy unit, ready to be used at any time.
Exceptional image quality: High-resolution imaging enables observation of the bronchial tree with life-like precision and color fidelity. The addition of Narrow Band Imaging (NBI) helps enhance observation of capillary structures. 
Built-in scope identification: The Scope ID function stores individual scope information on a built-in memory chip and displays it on the monitor, facilitating endoscopy suite management.
---
Product Support
Outer Diameter Insertion Tube:
Olympus Service & Repair
Olympus offers a broad range of services to healthcare professionals and to our customers, including contact hour and peer-based training courses; information, training tools and videos on infection control and reprocessing; authorized repair services and support on Olympus equipment; and financing solutions to help your facility with acquisition of new capital equipment, accessories, and maintenance plans.
Need Help?
Cleaning, Disinfection & Sterilization
The proper cleaning, disinfection, and sterilization of Olympus equipment is equally as important as their proper use. 
Olympus Training & Proper Use
Olympus offers a variety of educational opportunities for medical and surgical healthcare professionals. 
Peer-To-Peer Training
Our Professional Education Program provides multiple types of peer-to-peer training in order to meet the specific educational needs of physicians and nurses focused on the safe and effective use of Olympus products.
Olympus University
Olympus Professional Education also offers training programs through Olympus University (OU). Geared toward nurses, reprocessing technicians and biomeds, many of the OU courses are available for nursing contact hour continuing education credit.
Visit Olympus University