MedPresence®

Telecollaboration for the Procedure Suite
Expanding Teams Virtually
Real-time access to clinical consultations, technical support, training, clinical education, and best practices are more important than ever before, but physically bringing experts into a procedure room is not always possible, feasible, or desirable.
MedPresence is an enterprise telecollaboration solution that enables teams to quickly bring needed expertise into a procedure space from across the organization, around the world, and at any time virtually.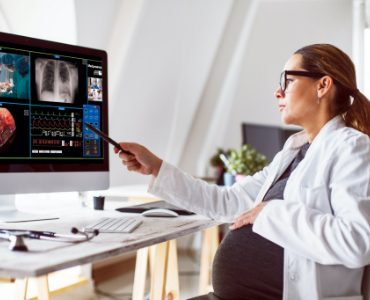 Physician to Physician
When a physician in the procedure space needs more information to make a treatment decision because they have seen something new or unusual and they want another set of eyes and opinions, MedPresence provides a platform for remote collaboration between multiple physicians and colleagues.
Teacher to Student
Medical knowledge is expanding faster than physicians can process and apply it. For example, students who graduate in 2020 will experience four doublings in knowledge by the time they complete the minimum length of training needed to practice medicine.1
With MedPresence, procedure room walls become virtually transparent, allowing remote participants to have all the clinical context and communications to learn the latest surgical techniques and best practices.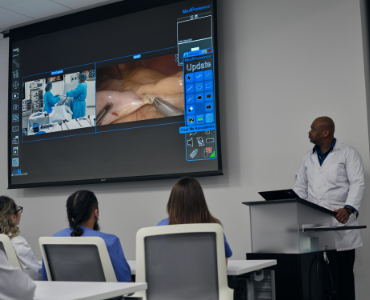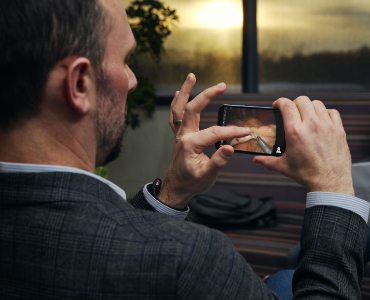 Clinician to MedTech Vendor
As surgical equipment becomes more complex, MedTech vendors are needed in the procedure space to provide training on safe and effective use, technical support, critical insights on implant sizing, device placement, and best practices.
The MedPresence Experience
Olympus has taken a great deal of care to create an immersive, virtual experience allowing clinicians in the room to interact with their remote peers in the same ways that they would if they were actually in the room. With MedPresence, it is achievable to have a virtual experience that rivals in person collaboration. Here's how:

Remote visualization of
the direct clinical source

Two-way audio
and video

Two-way telestration -
drawing, highlighting
and pointing
Safeguarding Patient and Clinician Privacy
One of the biggest concerns when collaborating virtually is security. In MedPresence, security is not an afterthought. In fact, it is baked into the very DNA of the product. Unlike common webshare programs, MedPresence was validated by an independent, nationally recognized security firm and features encrypted security architecture.
Innovative features like masking of PHI, "on air" indicators, and one-button privacy mode enables real-time collaboration while protecting patient and clinician privacy and supporting HIPAA compliance.

Penetration Testing

Data Subject Reports

Help Maintain Your
HIPAA Compliance
Telecollaboration in a Pandemic
COVID-19 has presented unprecedented challenges for healthcare facilities. Olympus can support hospitals with MedPresence, a telecollaboration platform allowing needed expertise to consult and support remotely to lower exposure rates and minimize the consumption of PPE without limiting important knowledge sharing amongst those in and outside of the facility.

Lower exposure rates by enabling experts to consult virtually

Minimize the consumption of necessary sets of Personal Protective Equipment

Share and learn expertise from those inside and outside your facility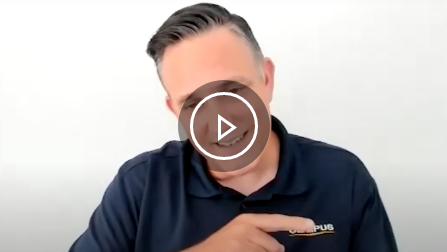 Philip Jacobus, CEO and founder of DOTmed.com and publisher of HealthCare Business News, checks in with Randy Clark, president of the Medical Systems Group at Olympus Corporation of the Americas, about the impact of the coronavirus pandemic on the company and on field employees in particular. They also discuss the importance of pivoting to a virtual presence for medtech in order to retain a presence in the hospital without increasing the risk of spreading infection.
Information for Current Users
Thank you for being a MedPresence customer! Here are resources to help you and your team hit the ground running.


Technical Documents:
Please contact your MedPresence Sales Rep for access to the MedPresence Customer Onboarding Page

Full Olympus Team of Sales Reps, Sales Engineers, and Project Managers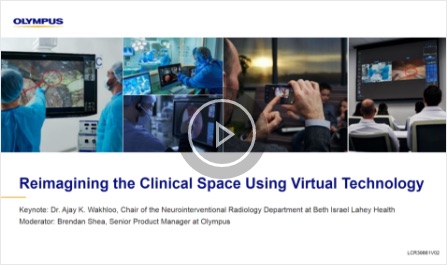 Reimagining the Clinical Space Using Virtual Technologies with Dr. Ajay K. Wakhloo, Chair of Neurointerventional Radiology at Beth Israel Lahey Health (Burlington, MA)