OfficePACK (C040100)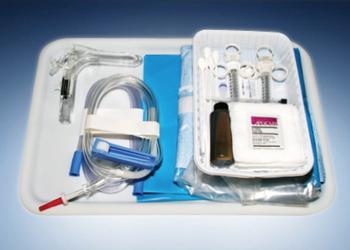 Hysteroscope
OfficePACK (C040100)
The OfficePACK contains all the items needed for office hysteroscopy in one convenient package that is designed for easy set up and disposal. The OfficePACK contains: a custom mayo drape with built-in instrument pockets and trash container; an OfficeSPEC disposable, side-opening speculum with a light; a 1.2  mm endoscopic double sealing seal; inflow and outflow tubing with LuerLok® adaptors; an underbuttocks drape with a graded drain bag; and a drawstring for easy, post-procedure disposal.
---
Key Benefits
Disposable components: All of the components in the OfficePACK are disposable and latex-free, including an OfficeSPEC disposable side-opening speculum with a built-in light source and a 1.2 mm endoscopic seal.
Sterile Packaging: All items are sterile packed on a disposable mayo tray and are ready for use.
Easy clean up: The mayo tray drape doubles as trash bag with ties for easy post-procedure clean up.
---
Product Support
OfficePACK Includes:
1 Disposable Mayo Tray
1 Mayo Tray Drape
2 Plastic Cotton Tip
15 Gauze 100 x 100 mm
1 Surgical Lubricant, 3 g
1 Povidone Iodine Solution with 3 Plastic Cotton Tip
1 Alcohol Prep Pad
1 Spinal Needle 22 GA
Sanitary Paper
1 Cysto Irrigation Set Inflow with LuerLok® Fitting
1 Outflow Tubing with LuerLok® Fitting
2 Gloves
1 OfficeSPEC Disposable Side-Opening Speculum with Light
1 Endoscopic Seal 1.2 mm with LuerLok® Fitting
1 Item Tray
1 Under Buttocks Drape with Graded Collection Bag
*All Items in OfficePACK are sterile and latex-free
Olympus Training & Proper Use
Olympus offers a variety of educational opportunities for medical and surgical healthcare professionals. 
Peer-To-Peer Training
Our Professional Education Program provides multiple types of peer-to-peer training in order to meet the specific educational needs of physicians and nurses focused on the safe and effective use of Olympus products.
Olympus University
Olympus Professional Education also offers training programs through Olympus University (OU). Geared toward nurses, reprocessing technicians and biomeds, many of the OU courses are available for nursing contact hour continuing education credit.
Visit Olympus University