Meet the demands of your busy schedule
with the OER-Pro. 99% Uptime.*
Quick Reprocessing Time
The OER-Pro can simultaneously reprocess two flexible endoscopes in 26-29 minutes*
Dual scope processing**
The OER-Pro can simultaneously reprocess two flexible endoscopes
Ultrasonic cleaning and high-pressure laminar channel flow
The combination of the advanced technology with a specially-formulated detergent supports the overall cleaning process
Automatic disinfection of endoscopic valves
High-level disinfection of the Olympus endoscopic valves is achieved using the OER-Pro
Automatic alcohol flushing and air purge of channels
The fully automated alcohol flush enhances endoscope drying time
*Based on water supply conditions set by Olympus. Actual performance may vary depending on local conditions
**Simultaneous reprocessing of two scopes may not be possible with some scope configurations.
"We picked the OER-Pro because of the small footprint,
it uses the peracetic acid, reduced exposure for our employees and
also the rapid turnover time…"
‐ Ambulatory Surgery Center
Compact and Smart Design
Only 18 inches wide, the OER-Pro has a smart design, requiring less than
half the space of earlier endoscope reprocessors.
Stainless steel basin
Highly engineered stainless steel basin eliminates costly replacements
due to cracking
Visual detection
The operator can visually verify that there is fluid flow to the endoscope
channel connector
Convenient foot pedal
The basin lid can be opened by pressing the convenient foot pedal.
For safety, the OER-Pro lid is kept locked during the operation to prevent
accidental exposure, spills, or splashing
Document History
The printer makes quality control, tracking, and reprocessing compliance
easier. Reprocessing detail records can be printed or stored electronically
"Almost immediately, we found that our reprocessing techs had extra
time on their hands that they never had before. This consistently
reduced the need to add staff to the schedule on our busy days."
‐ Top Ranking GI Hospital
Modified Manual Cleaning Flow
The modified manual cleaning flow allows for quicker and easier reprocessing by eliminating 7 of the 11 manual cleaning steps,
including the most labor intensive and variable part of the process: manual flushing of the endoscope channels with
detergent, water, and aira.
"… Never an issue and easy to use. The OER‐Pro is maintenance free
b
."
‐ IDN Customer
aConsult the Instructions for Use that came with the endoscope to obtain detailed reprocessing instructions.
bOlympus recommends annual preventative maintenance.
Automated Scope ID System
The OER-Pro is equipped with an easy-to-use Radio Frequency Identification
(RFID) management system, which automatically records scope serial and
model numbers, operator ID, and time of reprocessing. This avoids human
error and eliminates the cumbersome manual input of information with a keypad
or barcode.
Data Management Solutions
The OER-Pro data management solutions can be scaled to the facilities'
operations and meet local and multi-society record retention standards
Two Dedicated High Level Disinfectants:
Acecide-C® & ALDAHOL® 1.8
The OER-Pro can be used with one of the two dedicated chemicals of your choice. Both chemicals have been tested and
approved by Olympus for compatibility with Olympus endoscopes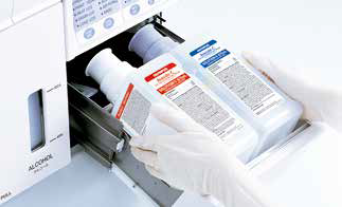 Acecide-C: High-level disinfectant & sterilant
High-level disinfects in 7 minutes at room temperature
The only validated PAA solution by Olympus for Olympus endoscopes
Saves time and effort with a safe and hassle-free disinfectant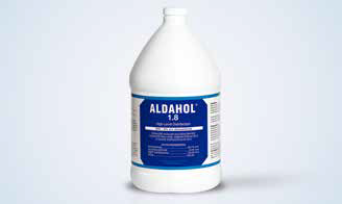 Ordering Information
For more information contact your local
sales representative or call 800-848-9024.
*Based on Olympus Service Repair data gathered over a period of 18 months. Data on file.