Confidence you can feel.
Outcomes you can trust.
New Olympus
Duodenoscope with
Innovative Removable
Tip Design
Olympus is excited to announce the full market release of the TJF-Q190V, the newest Olympus duodenoscope model. The TJF-Q190V includes a disposable distal cover, meeting the FDA recommendation made on August 29, 2019 for facilities to transition to duodenoscope with designs including disposable components. The TJF-Q190V provides features focused on enabling more consistent reprocessing procedure, and further enhanced therapeutic maneuverability including High Force Transmission, an increase backward viewing capability and distal end flushing adapter.
Learn more about the TJF-Q190V
DOWNLOAD THE TJF-Q190V BROCHURE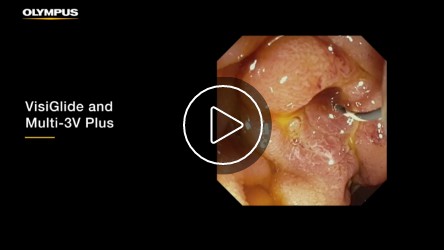 With an Olympus duodenoscope in hand, you can rest assured that you're experiencing the gold standard for ERCP procedures.
It's a confidence that comes from your own expertise combined with proven performance and unparalleled control. It's a trust that comes from 50 years of reliable outcomes.
It's peace of mind knowing that Olympus shares your commitment to patient safety.
The Power of Proven Performance.
ERCP can be challenging. You need tools you can trust to help you best serve each of your patients and stay focused on their unique needs.
For more than 50 years, Olympus duodenoscopes have been delivering unmatched control, durability, and imaging for both simple and complex ERCP procedures. Olympus delivers leading performance in scope positioning, stability, and tactile feedback combined with world-class optics and imaging.
Backed by our unique guidewire and sphincterotome technologies, Olympus duodenoscopes provide a trusted, comprehensive ERCP solution.
Quality, exceptional maneuverability and feel that can't be duplicated.
The complete tool set needed to provide the care your patients deserve.
Sharp, clear, high-quality imaging that allows easy viewing and observation.
Olympus duodenoscopes provide the reliability and stability needed for precise scope manipulation and proper positioning—the keys to successful performance and the foundation for patient safety.
ERCPs can be long procedures and require durable duodenoscopes and reliable, flawless performance."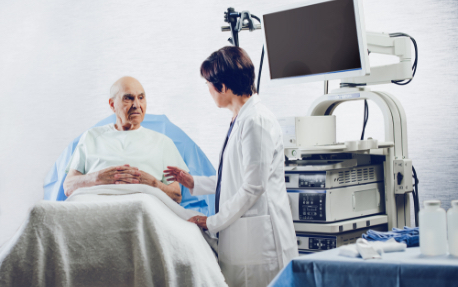 Stay Confident in Your Outcomes
Olympus' proven performance and continued innovation have created lasting confidence in our duodenoscopes. ERCP specialists have perfected their technique with our scopes, and they've become familiar with the risk profiles associated with ERCP procedures—profiles based on decades of research and data.
Minimizing Procedural Risk
Duodenoscope performance is a key contributor to successful ERCP in terms of both cannulation attempts and time spent performing procedures. Olympus duodenoscopes allow full confidence in achieving the proper insertion angle and limiting the need to readjust or reapproach.
Minimizing cannulation attempts, and time spent cannulating can minimize the risk of post-ERCP pancreatitis.1
A time-saving endoscopic procedure means less risk for the patient and better quality of life. More effective ERCP means more lives can be saved.
Enhancing Patient Safety
Patient safety remains Olympus' top priority—we're passionate about helping people live healthier, safer lives. Olympus duodenoscopes are FDA-cleared devices and have been proven as a highly effective means of performing ERCP procedures.
Olympus gives you access to safety-based partnerships, training programs, and a support network focused on infection prevention. The Olympus Care Program combines a variety of support offerings to help you get the most from your Olympus duodenoscopes including, Duodenoscope Maintenance and Care, Customized Education and Olympus Service.
Count on Cost Efficiency
Performance matters. Safety is critical. Cost containment is also extremely important when performing ERCP procedures.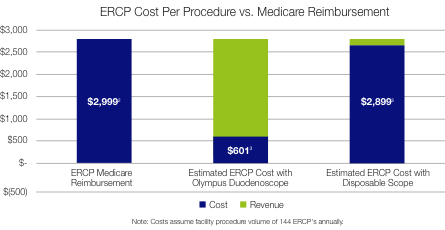 Using estimates, it has been determined that the cost per ERCP procedure using an Olympus duodenoscope is roughly $601 including the scope, associated equipment, and medical supply cost. The cost of the same procedure using a single-use duodenoscope is reported to be $2899.2
Single-use duodenoscopes also carry with them additional fees including shipping, store, out-of-package failure, and disposal costs.
Maintain the Highest Level of Care
Nothing is more important than the health and safety of your patients. With this in mind, Olympus stays true to patient care by helping you perform at your very best.
A challenging ERCP is no time to compromise on the quality or performance of your key instruments. With your Olympus duodenoscope in hand, you can feel confident in delivering the best outcome for your patient.
To learn more click here or call 800-401-1086 for more information on Olympus' newest innovations in ERCP.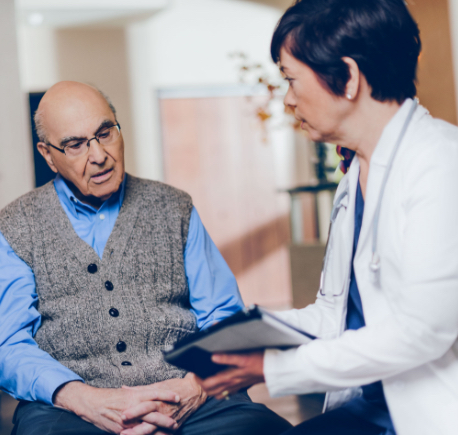 Innovative device platform to meet
the challenges of ERCP
Every ERCP procedure presents its own unique challenges, including post-ERCP pancreatitis, clinically significant bleeding and cholangitis following the procedure. With the risks tied to ERCP, it is crucial to use the tools necessary for a safe and effective procedure. Let the Olympus ERCP portfolio be your key for exceptional clinical outcomes and minimized patient risk.
Learn more about the Olympus ERCP device portfolio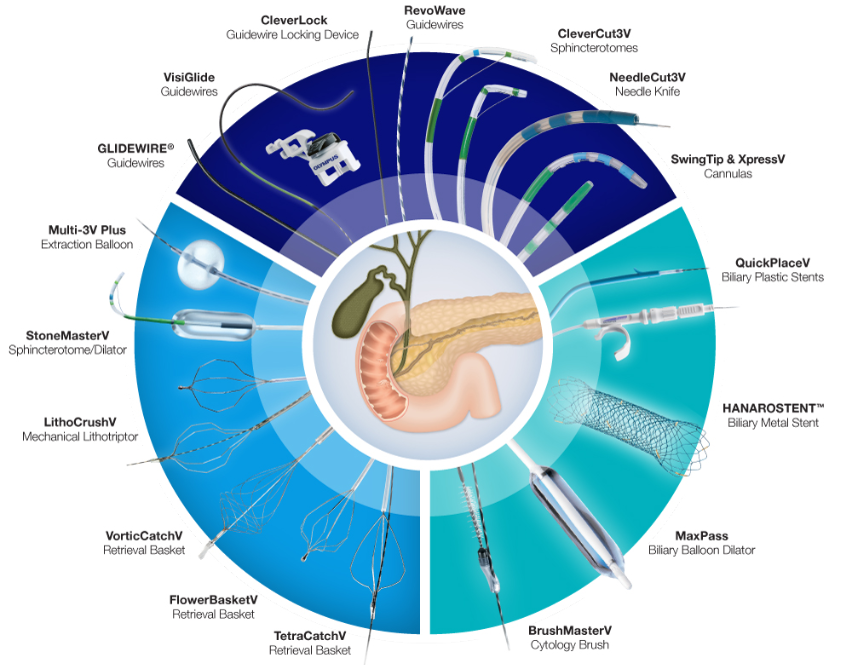 Clinical and Economic Resources
---
Additional Resources
You depend on Olympus to deliver the tools, services, and information you need to provide the highest levels of quality and safety in patient care. To make sure that you have access to today's newest advances in infection prevention, and remain empowered to make the most of them, we offer customized education and training programs, comprehensive service and repair programs, a wide-ranging support network, and the power of cutting-edge workflow connectivity.
Disclaimer
Any product, reimbursement, or billing-related content or information ("Content") presented herein is illustrative in nature and does not guarantee or represent specific information, outcomes, or results. Olympus Corporation of the Americas and its parents, subsidiaries, affiliates, directors, officers, employees, agents, and representatives (collectively "Olympus") does not represent to or warrant the accuracy or applicability of the Content. To the extent possible under applicable law, under no circumstances shall Olympus be liable for any costs, expenses, losses, claims, liabilities, or other damages (whether direct, indirect, special, incidental, consequential, or otherwise) that may arise from, or be incurred in connection with, the Content or any use thereof.
1. Swan MP, Alexander S, Moss A, et al. Needle Knife Sphincterotomy Does Not Increase the Risk of Pancreatitis in Patients with Difficult Biliary Cannulation. Clin Gastronenterol Hepatol 2013 Apr; 11(4):430-6.
2. 43260: Endoscopic retrograde cholangiopancreatography (ERCP); diagnostic, including collection of specimen(s) by brushing or washing, when performed (separate procedure).
3. Baker Tilly. (2021) 'Financial Considerations for Single-Use and Conventional Duodenoscopes in ERCP Procedures