Multi-Flex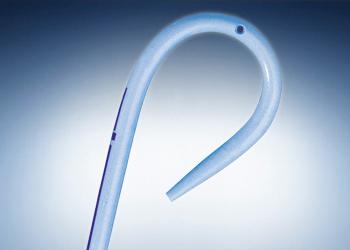 Ureteral Stents
Multi-Flex
Olympus Multi-Flex™ ureteral stents feature an advanced design with teardrop shaped kidney curls for enhanced stability, long tapered tips and hydrophilic coatings for ease of placement, and helix kidney curls for minimized irritation to the trigone. The stent has two material durometers—a firmer kidney segment provides pushability for placement and strength for stability while a softer bladder segment ensures exceptional patient comfort. Each stent is supplied with an attached braided nylon tether and one RAMROD™ metal tip push catheter.
---
Key Benefits
Advanced design: Two durometers of unique Tecoflex® material provide firmness necessary for advancement and extra softness at body temperature for increased patient comfort.
Easy passage: A kidney curl tapered tip and teardrop design allow for ease of passage and stable seating in the kidney.
Kink resistant: The spiral drainage hole design resists kinking and buckling.
Ultra-slippery coating: The hydrophilic coating on the stent's surface ensures easy insertion and removal.
Product Support
Olympus offers the largest selection of ureteral stents on the market, each ensuring the highest standards of quality and performance. Olympus ureteral stents are designed to meet the procedural needs of the surgeon and the comfort needs of the patient. Olympus stent types includes dual- and single-durometer, Tecoflex®, and silicone—each with a selection of curl designs, tip configurations, and surface coatings. Olympus ureteral stent designs include: Classic Closed Tip, Classic Double PigTail, Double-J®, LithoStent™, Lubri-Flex®, Multi-Flex™, Quadra-Coil® Multi-Length, Sof-Curl™, and UroGuide™. For detailed specification or to determine the appropriate instrument for your needs, please contact customer service for assistance.
Olympus Training & Proper Use
Olympus Continuum, is a comprehensive platform of education and training experiences led by healthcare experts from around the world. Learning opportunities include hands-on courses, online learning, lectures and workshops, peer-to-peer training, accredited continuing education, and on-demand learning.
For more information: Olympus Continuum Video