OTV-S200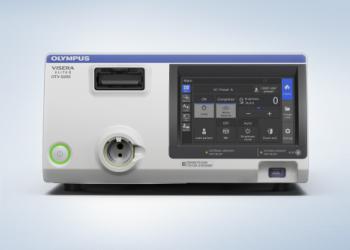 Surgical Imaging System
OTV-S200
VISERA ELITE II Surgical Imaging System (OTV-S200) is designed to streamline endoscopic procedures across all surgical specialties including General Surgery, Urology, Gynecology, Otolaryngology and Orthopedic surgery.
Whereas most imaging systems require a separate light source and processor, the VISERA ELITE II Surgical Imaging System provides everything in one compact device, achieving a single connection to more than 20 compatible videoscopes and camera heads.
The one-box multi-specialty platform leads to a simplified OR workflow from equipment preparation, to maintenance, troubleshooting, and cable management. In addition, standardized equipment across departments help minimize the time for training of nurses and OR staff throughout your facility.
---
Key Benefits
Clinical
Promotes accurate diagnosis and precise surgical treatment by achieving reproduction of natural color, fine patterns and structures of tissue via LED light.
Supports critical surgical decision making with NBI® that has at least 25% higher light intensity* than the previous models and generates higher contrast of blood vessels on the mucosal surface.
*data on file. NBI is not intended to replace histopathological sampling as a means of diagnosis. For more details on NBI® technology, click here.
Economic
Reduces the initial investment of the overall imaging system by adopting the integrated processor and light source.
Standardizes cross-specialty surgical needs for General Surgery, Urology, Gynecology, Otolaryngology and Orthopedic surgery, accommodating more than 20 different scopes and camera heads.
Supports easy, inexpensive upgrades with a simple one-box backward compatibility system.
Decreases operating costs with the elongated use period of LED lights in the compact system.
Usability
Simplifies workflow in the operating room with the all-in-one compact system.
Touch-panel screen enables quick & easy operation for user presets setup.
Up to 20 customizable user settings can be registered to accommodate multiple surgeons' preference.
---
Product Support
Power Supply Voltage:  100–240 V AC; within ±10%
Frequency:  50/60 Hz; within ±1 Hz
Consumption Electric Power:  400 VA
Size Dimensions (W x H x D):  383 (W) mm x 199 (H) mm x 506 (D) mm
Maximum Light Intensity: Less than 5.64W (approximately same as an Olympus light source that is mounted Xenon short-arc lamp 300W).
Weight: 19.3 kg
Olympus Service & Repair
Olympus offers a broad range of services to healthcare professionals and to our customers, including contact hour and peer-based training courses; information, training tools and videos on infection control and reprocessing; authorized repair services and support on Olympus equipment; and financing solutions to help your facility with acquisition of new capital equipment, accessories, and maintenance plans.
Need Help?
Cleaning, Disinfection & Sterilization
The proper cleaning, disinfection, and sterilization of Olympus equipment is equally as important as their proper use. 
Olympus Training & Proper Use
Olympus offers a variety of educational opportunities for medical and surgical healthcare professionals. 
Peer-To-Peer Training
Our Professional Education Program provides multiple types of peer-to-peer training in order to meet the specific educational needs of physicians and nurses focused on the safe and effective use of Olympus products.
Olympus University
Olympus Professional Education also offers training programs through Olympus University (OU). Geared toward nurses, reprocessing technicians and biomeds, many of the OU courses are available for nursing contact hour continuing education credit.
Visit Olympus University
Compatible Devices
Compatible Videoscopes & Cameras to OTV-S200

LTF-S190-5

ENDOEYE FLEX 5mm Articulating tip HD Video-Laparoscope

LTF-S190-10

ENDOEYE FLEX 10mm Articulating tip HD Video-Laparoscope

WA50040A

ENDOEYE Rigid 10mm 0 degree HD Video-Laparoscope

WA50042A

ENDOEYE Rigid 10mm 30 degree HD Video-Laparoscope

WA50050A

ENDOEYE Rigid 5mm 0 degree HD Video-Laparoscope

WA50052A

ENDOEYE Rigid 5mm 30 degree HD Video-Laparoscope

CH-S190-XZ-E

HD 3CCD Autoclavable Camera Head, Eyepiece type

CH-S190-XZ-Q

HD 3CCD Autoclavable Camera Head, Quicklock type

CH-S190-08-LB

ULTRA LIGHTWEIGHT PENDULUM CAMERA HEAD

CYF-VH

HD Flexible Cysto-Nephro Videoscope

CYF-VHA

HD Flexible Cysto-Nephro Videoscope with suction valve

CYF-VHR

HD Flexible Cysto-Nephro Videoscope with reverse angulation

URF-V2

Digital Flexible Ureteroscope, standard angulation

URF-V2R

Digital Flexible Ureteroscope, reverse angulation

URF-V3

Digital Flexible Ureteroscope with DuraBend, standard angulation

URF-V3R

Digital Flexible Ureteroscope with DuraBend, reverse angulation

ENF-V3

Slim RHINO-LARYNGO VIDEOSCOPE

ENF-V4

Slim RHINO-LARYNGO VIDEOSCOPE with pistol grip handle

ENF-VH

HD RHINO-LARYNGO VIDEOSCOPE

ENF-VH2

HD RHINO-LARYNGO VIDEOSCOPE with pistol grip handle

ENF-VT3

Four- Direction Therapeutic RHINO-LARYNGO VIDEOSCOPE
Camera Head From