BrushMasterV Cytology Brush - Single Use (BC-V600P-3010)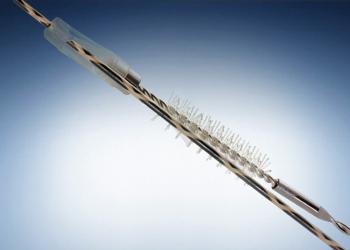 Brushes
Cytology Brush
BrushMasterV Cytology Brush - Single Use (BC-V600P-3010)
The single-use Olympus BrushMasterV Cytology Brush delivers improved fluoroscopic visibility with dual radiopaque markers at each end of the brush. The distal wire-guided design provides excellent stricture passage and precisely targeted brushing.
---
Key Benefits
Ideal brush strength: The brush is the ideal strength for improved specimen collection.
Optimal stiffness: The brush's combination of stiffness and flexibility ensures optimal pushability and smooth passage through the stricture.
V-System compatibility: BrushMasterV brushes are equipment with V-Markings and C-Hook for integration with the V-System for ERCP.
Product Support
BC-V600P-3010
Working Length: 190 mm
Brush Length: 10.0 mm
Brush Diameter: 3.0 mm
Minimum Channel Size: 3.2 mm
Compatible Scopes: JF, TFJ
Sheath Design: Distally wire-guided
Package: 1 per box, sterile
Use: Single use
For detailed specifications please contact customer service for assistance.
Olympus Training & Proper Use
Olympus offers a variety of educational opportunities for medical and surgical healthcare professionals. 
Peer-To-Peer Training
Our Professional Education Program provides multiple types of peer-to-peer training in order to meet the specific educational needs of physicians and nurses focused on the safe and effective use of Olympus products.
Olympus University
Olympus Professional Education also offers training programs through Olympus University (OU). Geared toward nurses, reprocessing technicians and biomeds, many of the OU courses are available for nursing contact hour continuing education credit.
Visit Olympus University
---