VisiGlide Guidewires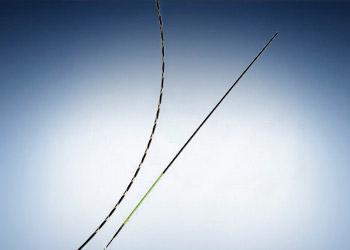 Guidewires
ERCP Guidewire
VisiGlide Guidewires
Single-use Olympus VisiGlide Guidewires are part of the innovative V-System, designed to enhance the success rate of ERCP. These guidewires include advanced fluoroscopic and endoscopic markings to assist with stricture measurement and the guidewire's hydrophilic tip improves ductal navigation. Both 0.025- and 0.035-inch guidewires are available in 270 cm and 450 cm working lengths, with both straight and angled tips.
---
Key Benefits
Procedural flexibility: The specially designed 0.025-inch guidewire features the same stiffness as a regular 0.035-inch guidewire, allowing physicians to use one guidewire for a variety of procedures, while the 0.035-inch guidewire provides additional shaft support when needed.  
Precise stent placement: Advanced fluoroscopic and endoscopic markings assist with stricture measurement for precise stent placement.
Improved navigation: A Terumo GLIDEWIRE® hydrophilic tip provides "gold standard" ductal navigation and a special fluorine coating reduces friction, making device manipulation virtually effortless.
Product Support
Outer Diameters: 0.025, 0.035 in
Working Lengths: 270, 450 cm
Tip Shapes: Straight, angled
Package: 1 per box, sterile
Use: Single Use
For detailed specifications, please contact customer service for assistance.
---