EVIS EXERA III (CV-190)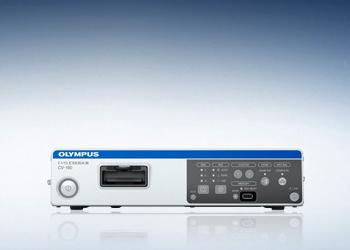 Imaging System
Video Processor
EVIS EXERA III (CV-190)
The EVIS EXERA III CV-190 video system center provides video processing for advanced endoscopy. The system enables easy access to the range of features incorporated into EVIS EXERA III endoscopes. New and improved image processing delivers outstanding image quality, thanks to reduced noise and halation along with improved color contrast for optimal image quality.
---
Key Benefits
Improved image processing: The CV-190 delivers sophisticated image quality via enhanced color reproduction, minimized image noise, and reduced halation.
Brighter, more powerful imaging

: Narrow Band Imaging (NBI) now delivers significantly increased brightness as well as twice the viewable distance, thanks to an improved lamp design and signal processing.

Capture a crisp, clear image the first time: Pre-Freeze dramatically increases the sharpness and clarity of still-image captures.
Product Support
Dual Focus (enabled with HQ endoscopes): Allows the user to switch between two focus settings with the push of a button. "Near mode" features ground-breaking resolving power for close mucosal observation and "far mode" delivers normal observation. Even in "far mode," EVIS EXERA III endoscopes feature an advanced level of resolving power compared to previous generations.
Narrow Band Imaging: NBI in EVIS EXERA III endoscopes offers up to twice the viewable distance in the lumen compared to previous generations.
Pre-Freeze: This new feature automatically selects the sharpest still image, saving time.
Image Processing: New and improved image processing delivers outstanding image quality, thanks to reduced noise and halation along with improved color contrast to deliver optimal image quality.
Signal Output: A range of signal output options are available to suit the monitor attached to the CV-190. This enables achieving the optimal image for the installed infrastructure. 16:9 and 16:10 format is available for HD monitors.
Olympus Service & Repair
Olympus offers a broad range of services to healthcare professionals and to our customers, including contact hour and peer-based training courses; information, training tools and videos on infection control and reprocessing; authorized repair services and support on Olympus equipment; and financing solutions to help your facility with acquisition of new capital equipment, accessories, and maintenance plans.
Need Help?
Olympus Training & Proper Use
Olympus offers a variety of educational opportunities for medical and surgical healthcare professionals. 
Peer-To-Peer Training
Our Professional Education Program provides multiple types of peer-to-peer training in order to meet the specific educational needs of physicians and nurses focused on the safe and effective use of Olympus products.
Olympus University
Olympus Professional Education also offers training programs through Olympus University (OU). Geared toward nurses, reprocessing technicians and biomeds, many of the OU courses are available for nursing contact hour continuing education credit.
Visit Olympus University
---