OEV-261H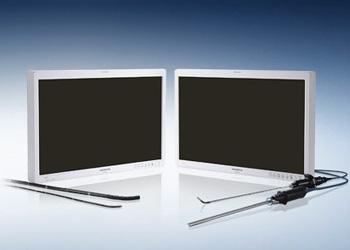 Monitors
LCD HD Monitors
OEV-261H
The OEV-261H is a 26" LCD monitor able to display full High Definition (HD) images and has been designed specifically for use with Olympus endoscopy systems. It has a range of display modes including PIP and POP, to allow for the optimal display of images, and multiple input terminals, ensuring compatibility with a wide range of image sources.
---
Key Benefits
Full HD imaging designed specifically for Olympus endoscopes
The OEV-261H has a large, 26" screen designed to display full High Definition (HD) images, and is specifically designed for use with Olympus endoscopy systems.
Various display modes to match clinical needs
A range of image sizes and picture-in-picture (PIP) or picture-out-picture (POP) modes can be chosen to display images in the optimum configuration. By integrating numerous image sources on one monitor, ergonomic comfort can be significantly improved.
Multiple input terminals for a range of video signals 
The OEV-261H has input terminals for multiple High Definition and Standard Definition inputs, allowing a wide range of video signals from different endoscopy systems to be displayed.
Customizable user settings 
As well as ten factory settings, 20 user settings can be registered easily and recalled instantly, improving procedural efficiency and preparation time.
---
Product Support
Full HD compatibility
The OEV-261H has a 26 inch WUXGA LCD 1920 x 1200 pixel panel capable of displaying full HDTV images, giving you crystal-clear images from HD or SD endoscopes.
Extremely high contrast ratio
This monitor has an extremely high contrast ratio to ensure crisp rendition of brighter and darker areas - this helps you distinguish between physiological structures, assisting with an accurate diagnosis.
Various display modes
This 26" monitor has a variety of display modes including PIP and POP allowing you to show a number of video inputs at once. Image quality and gamma settings can be adjusted for each input, so you can tailor the display to your exact needs.
User-programmable functions
The OEV-261H has 20 user-programmable settings, allowing you to customise it to suit your needs. It can also be programmed to react to switches on the control section of your endoscope, allowing effortless and efficient endoscopy.
Multiple input terminals
The back panel of this monitor has space for multiple HD and SD inputs, allowing you to connect a range of video inputs and use a wide variety of endoscope systems.
Olympus® Service & Repair
Olympus offers a broad range of services to healthcare professionals and to our customers, including contact hour and peer-based training courses; information, training tools and videos on infection control and reprocessing; authorized repair services and support on Olympus equipment; and financing solutions to help your facility with acquisition of new capital equipment, accessories, and maintenance plans.
Need Help?
Olympus Training & Proper Use
Olympus Continuum, is a comprehensive platform of education and training experiences led by healthcare experts from around the world. Learning opportunities include hands-on courses, online learning, lectures and workshops, peer-to-peer training, accredited continuing education, and on-demand learning.
For more information: Olympus Continuum Video