EVIS EXERA III (GIF-XP190N)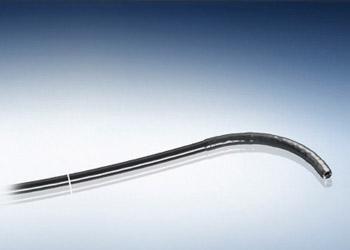 Gastroscope
Video Gastroscope
EVIS EXERA III (GIF-XP190N)
The EVIS EXERA III GIF-XP190N gastroscope delivers excellent image quality and illumination, enhanced NBI capabilities, and a wide 140° field of view. Its 5.4 mm outer diameter makes the GIF-XP190N a powerful tool for diagnostic endoscopy whenever an ultra-slim scope is needed.
---
Key Benefits
Superior image quality and wider field of view: The GIF-XP190N features full-screen image quality, enhanced Narrow Band Imaging (NBI) with significantly increased brightness, and a wider field of view (140°) compared to previous generations. Two light guides provide noticeably better illumination than previous generations.
Ultra-slim insertion tube: With its superior imaging capabilities and wide field of view, the slim GIF-XP190N is an ideal tool for diagnosis via the transnasal route or for use in patients with esophageal strictures. And a larger 2.2 mm channel provides better suction and more device compatibility.
Efficient design: The ergonomically designed control section delivers enhanced scope maneuverability and easy access controls. 
Electrocautery support: Unlike previous generations of ultra-slim gastroscopes, the GIF-XP190N is compatible with electrocautery equipment for greater flexibility when treating patients.
Easier setup: A new waterproof connector design minimizes the effort required for setup prior to and in between cases and eliminates the need for a water-resistant cap.
Product Support
Outer Diameter Insertion Tube:
Olympus® Service & Repair
Olympus offers a broad range of services to healthcare professionals and to our customers, including contact hour and peer-based training courses; information, training tools and videos on infection control and reprocessing; authorized repair services and support on Olympus equipment; and financing solutions to help your facility with acquisition of new capital equipment, accessories, and maintenance plans.
Need Help?
Cleaning, Disinfection & Sterilization
The proper cleaning, disinfection, and sterilization of Olympus equipment is equally as important as their proper use.
Olympus Training & Proper Use
Olympus Continuum, is a comprehensive platform of education and training experiences led by healthcare experts from around the world. Learning opportunities include hands-on courses, online learning, lectures and workshops, peer-to-peer training, accredited continuing education, and on-demand learning.
For more information: Olympus Continuum Video
---