3D Visualization Unit (3DV-190)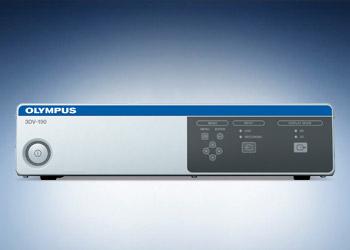 Imaging System
3D Visualization Unit
3D Visualization Unit (3DV-190)
The 3D Visualization Unit allows a 2D integration of the left and right images provided by two CV-190 Video processors. The 3DV-190 delivers the HD 3D signal to monitors and recorders in the optimal formal.  The 3DV-190 also facilitates recording and playback of 3D images to and from the IMH-20 Image Management Hub.
---
Key Benefits
3D Video signal integration: The 3DV-190 integrates the left and right images* provided by two CV-190 video system centers and outputs the 3D signal to 3D monitors and recorders in an optimal format. *Two CV-190 units required.
Multiple 3D Video Outputs and formats: 3D output (3G-SDI, DVI-D) to multiple monitors is available. The 3DV-190 supports several 3D formats:  3G, LINE-BY-LINE and SIDE-BY-SIDE.
Easy 2D/3D Switching: 2D and 3D observation modes can be switched easily by remote control and from the sterile field.
NBI® in 2D and 3D: Narrow Band Imaging is easily available during surgery in both 2D and 3D.
Product Support
Olympus Service & Repair
Olympus offers a broad range of services to healthcare professionals and to our customers, including contact hour and peer-based training courses; information, training tools and videos on infection control and reprocessing; authorized repair services and support on Olympus equipment; and financing solutions to help your facility with acquisition of new capital equipment, accessories, and maintenance plans.
Need Help?
Cleaning, Disinfection & Sterilization
The proper cleaning, disinfection, and sterilization of Olympus equipment is equally as important as their proper use. 
Olympus Training & Proper Use
Olympus offers a variety of educational opportunities for medical and surgical healthcare professionals. 
Peer-To-Peer Training
Our Professional Education Program provides multiple types of peer-to-peer training in order to meet the specific educational needs of physicians and nurses focused on the safe and effective use of Olympus products.
Olympus University
Olympus Professional Education also offers training programs through Olympus University (OU). Geared toward nurses, reprocessing technicians and biomeds, many of the OU courses are available for nursing contact hour continuing education credit.
Visit Olympus University
---