LithoCrushV Mechanical Lithotriptor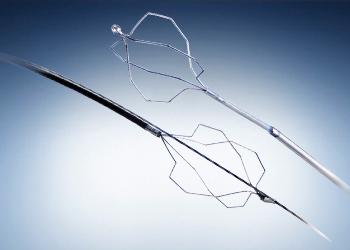 Lithotripsy
LithoCrushV Mechanical Lithotriptor
The Single-use Olympus LithoCrushV Mechanical Lithotriptor is versatile and easy to use and is available in bullet tip and wire-guided designs. A new handle design allows simple and rapid set up, and features basket rotation making retrieval of small or crushed stones easier and more efficient. The LithoCrushV Mechanical Lithotriptor is compatible with both the autoclavable LithoCrushV Handle (MAJ-441) and the autoclavable Emergency Lithotriptor Handle (BML-110A-1).
---
Key Benefits
Easy-to-assemble handle: The new, easy-to-assemble handle makes set up rapid and efficient.  Its ratcheted design helps prevent loss of basket tension, and its rotatability ensures easier capture of stones.
Reliable performance: The LithoCrushV Mechanical Lithotriptor delivers excellent crushing force and wide opening baskets optimize grasping capability.
Product Support
Olympus Training & Proper Use
Olympus offers a variety of educational opportunities for medical and surgical healthcare professionals. 
Peer-To-Peer Training
Our Professional Education Program provides multiple types of peer-to-peer training in order to meet the specific educational needs of physicians and nurses focused on the safe and effective use of Olympus products.
Olympus University
Olympus Professional Education also offers training programs through Olympus University (OU). Geared toward nurses, reprocessing technicians and biomeds, many of the OU courses are available for nursing contact hour continuing education credit.
Visit Olympus University
---